Os militares como sujeitos "quase étnicos" nos sistemas democráticos (Soldiers as quasi-ethnic subjects in democratic systems)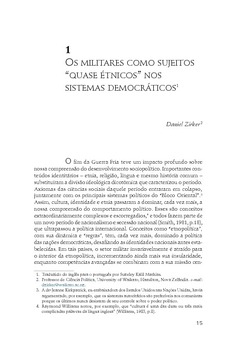 Citation
Zirker, D. (2016). Os militares como sujeitos 'quase étnicos' nos sistemas democráticos (Soldiers as quasi-ethnic subjects in democratic systems). In D. Zirker & S. K. Mathias (Eds.), Militares e democracia: Estudos sobre a identidade militar (Military and Democracy: Studies of Military Identity) (1st ed., pp. 15–28). São Paulo: Editora Cultura Acadêmica.
Abstract
O fim da Guerra Fria teve um impacto profundo sobre nossa compreensão do desenvolvimento sociopolítico. Importantes conteúdos identitários – etnia, religião, língua e mesmo história comum – substituíram a divisão ideológica dicotômica que caracterizou o período. Axiomas das ciências sociais daquele período entraram em colapso, juntamente com os principais sistemas políticos do "Bloco Oriental".³ Assim, cultura, identidade e etnia passaram a dominar, cada vez mais, a nossa compreensão do comportamento político. Esses são conceitos extraordinariamente complexos e escorregadios,⁴ e todos fazem parte de um novo período de nacionalismo e secessão nacional (Smith, 1981, p.18), que ultrapassou a política internacional. Conceitos como "etnopolítica", com sua dinâmica e "regras", têm, cada vez mais, dominado a política das nações democráticas, desafiando as identidades nacionais antes estabelecidas. Em tais países, o setor militar invariavelmente é atraído para o interior da etnopolítica, incrementando ainda mais sua insularidade, enquanto competências avançadas se combinam com a sua missão central, de proteger e preservar a nação. E isso acontece mesmo quando essa nação, por causa da profunda divisão interna, é de difícil identificação. Como Alfred de Vigny argumentou em seu clássico do século XIX, Servitude et grandeur militaires, "O exército é uma nação dentro de uma nação".⁵ Morris Janowitz pôs a mesma ideia em termos mais precisos: "A profissão militar é mais do que uma ocupação; é todo um estilo de vida completo. O oficial faz parte de uma comunidade cujas exigências sobre sua existência diária transcendem seus deveres oficiais..." (1967, p.175).⁶
Date
2016
Type
Publisher
Editora Cultura Acadêmica
Rights
© 2016 Editora Unesp. Used with permission.
Collections