First international workshop on using ontologies in interactive systems, ONTORACT'08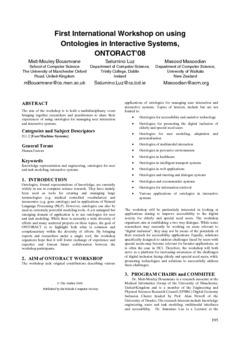 Citation
Bouamrane, M.-M., Luz, S., & Masoodian, M. (2008). First international workshop on using ontologies in interactive systems, ONTORACT'08. In O. Abuelmaatti & D. England (Eds.), Proc 22nd British HCI Group Annual Conference on People and Computers: Culture, Creativity, Interaction, BCS HCI 2008 (Vol. 2, pp. 195–196). UK.
Abstract
The aim of the workshop is to hold a multidisciplinary event bringing together researchers and practitioners to share their experiences of using ontologies for managing user interaction and interactive systems.
Date
2008
Rights
© 2008 The Author Published by the British Computer Society.
Collections