Ka Pū Te Ruha, Ka Hao Te Rangatahi: Maori identities in the twenty-first century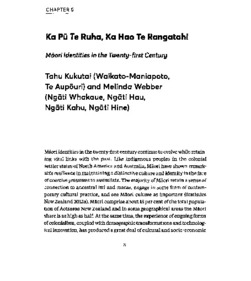 Citation
Kukutai, T., & Webber, M. (2017). Ka Pū Te Ruha, Ka Hao Te Rangatahi: Maori identities in the twenty-first century. In A. Bell, V. Elizabeth, T. McIntosh, & M. Wynyard (Eds.), A Land of Milk and Honey? Making Sense of Aotearoa New Zealand (pp. 71–82). Auckland, New Zealand: Auckland University Press.
Abstract
These social divides and problems are at the heart of this text.
Date
2017-02
Type
Publisher
Auckland University Press
Rights
© 2017 the authors.