Refusal of orders: The case of William Douglas Home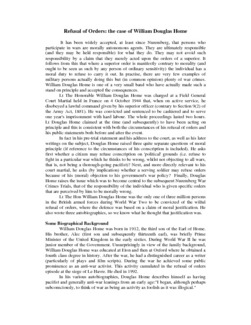 Citation
Smith, R. C. (1998). Refusal of orders: The case of William Douglas Home. WaiMilHist, 1(2).
Abstract
Based largely on the William Douglas Home court martial documents of 1944 and the three autobiographies that Douglas Home wrote, this article is an examination of the widely accepted principle that soldiers who are given orders that are 'manifestly unlawful' (Nuremberg) have an obligation to refuse them. The peculiarities of the case in terms of the personality and social status of the accused and its uniqueness (Douglas Home is the only prosecution from amongst some three million persons serving in the British forces in World War Two) raise significant questions about this obligation.
Date
1998-09
Type
Rights
This article has been published in the journal: WaiMilHist. Used with permission.
Collections