The development of an indigenous knowledge program in a New Zealand Maori-language immersion school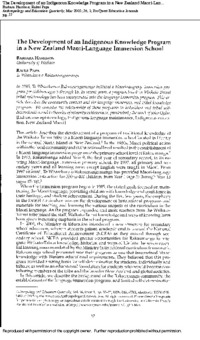 Citation
Harrison, B. & Papa, R. (2005). The development of an indigenous knowledge program in a New Zealand Maori-language immersion school. Anthropology and Education Quarterly, 36(1), 57- 72.
Abstract
In 1985, Te Wharekura o Rakaumangamanga initiated a Maori-language immersion program for children ages 5 through 18. In recent years, a program based on Waikato-Tainui tribal epistemology has been incorporated into the language immersion program. This article describes the community context and the language immersion and tribal knowledge programs. We consider the relationship of these programs to individual and tribal self-determination and to theories of minority achievement, particularly the work of John Ogbu.
Date
2005-03
Type
Publisher
American Anthropological Association
Rights
This article has been published in the journal: Anthropology and Education Quarterly. Copyright 2005 American Anthropological Association.
Collections