Flare energy release by flux pile-up magnetic reconnection in a turbulent current sheet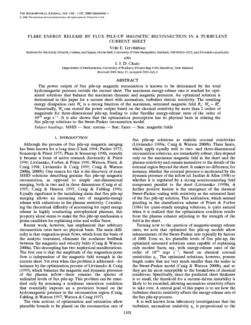 Citation
Litvinenko, Y.E. & Craig, I.J.D. (2000). Flare energy release by flux pile-up magnetic reconnection in a turbulent current sheet. The Astrophysical Journal, 544(2), 1101- 1107.
Abstract
The power output of flux pile-up magnetic reconnection is known to be determined by the total hydromagnetic pressure outside the current sheet. The maximum energy-release rate is reached for optimized solutions that balance the maximum dynamic and magnetic pressures. An optimized solution is determined in this paper for a current sheet with anomalous, turbulent electric resistivity. The resulting energy dissipation rate Wa is a strong function of the maximum, saturated magnetic field Bs: . Numerically, Wa can exceed the power output based on the classical resistivity by more than 2 orders of magnitude for three-dimensional pile-up, leading to solar flarelike energy-release rates of the order of 1028 ergs s−1. It is also shown that the optimization prescription has its physical basis in relating the flux pile-up solutions to the Sweet-Parker reconnection model.
Date
2000-12
Type
Rights
This article has been published in the Astrophysical Journal. Copyright 2000 The American Astronomical Society.
Collections