An exact solution for steady state magnetic reconnection in three dimensions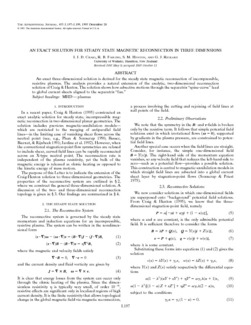 Citation
Craig, I.J.D., Fabling, R. B., Henton, S. M. & Rickard, G. J. (1995). An exact solution for steady state magnetic reconnection in three dimensions. The Astrophysical Journal Letters, 445(2), 197- 199.
Abstract
An exact three-dimensional solution is derived for the steady state magnetic reconnection of incompressible, resistive plasmas. The analysis provides a natural extension of the analytic, two-dimensional reconnection solution of Craig & Henton. The solution shows how advective motions through the separatrix "spine-curve" lead to global current sheets aligned to the separatrix "fan."
Date
1995-12
Type
Publisher
Institute of Physics Publishing
Rights
This article has been published in the Astrophysical Journal Letters. Copyright 1995 The American Astronomical Society.
Collections