Late Miocene to early Pliocene stratigraphic record in northern Taranaki Basin: Condensed sedimentation ahead of Northern Graben extension and progradation of the modern continental margin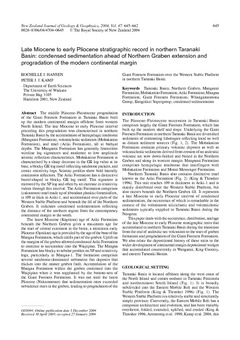 Citation
Hansen, R. J., & Kamp, P. J. J. (2004). Late Miocene to early Pliocene stratigraphic record in northern Taranaki Basin: Condensed sedimentation ahead of Northern Graben extension and progradation of the modern continental margin. New Zealand Journal of Geology & Geophysics. 47(4), 645-662.
Abstract
The middle Pliocene-Pleistocene progradation of the Giant Foresets Formation in Taranaki Basin built up the modern continental margin offshore from western North Island. The late Miocene to early Pliocene interval preceding this progradation was characterised in northern Taranaki Basin by the accumulation of hemipelagic mudstone (Manganui Formation), volcaniclastic sediments (Mohakatino Formation), and marl (Ariki Formation), all at bathyal depths. The Manganui Formation has generally featureless wireline log signatures and moderate to low amplitude seismic reflection characteristics. Mohakatino Formation is characterised by a sharp decrease in the GR log value at its base, a blocky GR log motif reflecting sandstone packets, and erratic resistivity logs. Seismic profiles show bold laterally continuous reflectors. The Ariki Formation has a distinctive barrel-shaped to blocky GR log motif. This signature is mirrored by the SP log and often by an increase in resistivity values through this interval. The Ariki Formation comprises (calcareous) marl made up of abundant planktic foraminifera, is 109 m thick in Ariki-1, and accumulated over parts of the Western Stable Platform and beneath the fill of the Northern Graben. It indicates condensed sedimentation reflecting the distance of the northern region from the contemporary continental margin to the south.
Date
2004-12-01
Type
Rights
This article has been published in the New Zealand Journal of Geology and Geophysics. (c) 2004 Royal Society of New Zealand.
Collections