The conservation of New Zealand's biological heritage and the role of environmental planners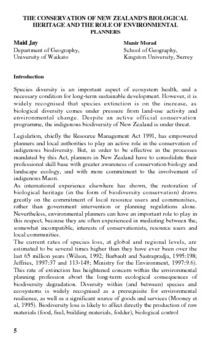 Citation
Jay, M. & Morad, M. (1998). The conservation of New Zealand's biological heritage and the role of environmental planners. British Review of New Zealand Studies, 11, 5-16.
Abstract
Species diversity is an important aspect of ecosystem health, and a necessary condition for long-term sustainable development. However, it is widely recognised that species extinction is on the increase, as biological diversity comes under pressure from land-use activity and environmental change. Despite an active official conservation programme, the indigenous biodiversity of New Zealand is under threat.
Date
1998
Type
Publisher
New Zealand Studies Committee
Rights
This article has been published in the journal: British Review of New Zealand Studies. Used with Permission.
Collections