A structural, spectroscopic and theoretical study of the triphenylphosphine chalcogenide complexes of tungsten carbonyl, [W(XPPh3)(CO)5], X=O, S, Se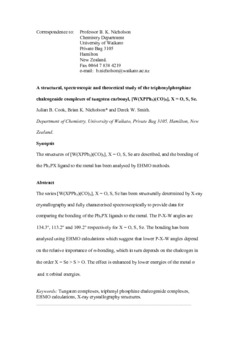 Citation
Cook, J.B., Nicholson, B.K. and Smith D.W. (2004). A structural, spectroscopic and theoretical study of the triphenylphosphine chalcogenide complexes of tungsten carbonyl, [W(XPPh3)(CO)5], X = O, S, Se. Journal of Organometallic Chemistry, 689, 860-869.
Abstract
The series [W(XPPh3)(CO)5], X=O, S, Se has been structurally determined by X-ray crystallography and fully characterised spectroscopically to provide data for comparing the bonding of the Ph3PX ligands to the metal. The P-X-W angles are 134.3°, 113.2° and 109.2°, respectively, for X=O, S, Se. The bonding has been analysed using EHMO calculations which suggest that lower P-X-W angles depend on the relative importance of σ-bonding, which in turn depends on the chalcogen in the order X=Se > S > O. The effect is enhanced by lower energies of the metal σ and π orbital energies.
Date
2004-02-01
Type
Rights
This is an authors version of an article published in the, Journal of Organometallic Chemistry, (c) 2004 Elsevier Science B.V.
Collections