Making it explicit and clear: From 'strong' to 'hyper-' inferentialism in Brandom and Peirce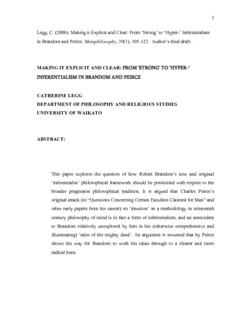 Citation
Legg, C. (2008). Making it explicit and clear: From 'strong' to 'hyper-' inferentialism in Brandom and Peirce. Metaphilosophy, 39(1), 105-123.
Abstract
This article explores how Robert Brandom's original "inferentialist" philosophical framework should be positioned with respect to the classical pragmatist tradition. It is argued that Charles Peirce's original attack (in "Questions Concerning Certain Faculties Claimed for Man" and other early papers) on the use of "intuition" in nineteenth-century philosophy of mind is in fact a form of inferentialism, and thus an antecedent relatively unexplored by Brandom in his otherwise comprehensive and illuminating "tales of the mighty dead." However, whereas Brandom stops short at a merely "strong" inferentialism, which admits some non-inferential mental content (although it is parasitic on the inferential and can only be "inferentially articulated"), Peirce embraces a total, that is, "hyper-," inferentialism. Some consequences of this difference are explored, and Peirce's more thoroughgoing position is defended.
Date
2008
Type
Publisher
Blackwell Publishing
Rights
This is the author's accepted version of an article published in the journal: Metaphilosophy. The definitive version is available at www.blackwell-synergy.com. Copyright 2008 The Author.
Collections