Contracting out local government services: A comparative study of two New Zealand regional councils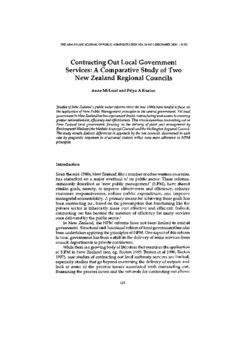 Citation
McLeod, A & Kurian, P. (2004). Contracting out local government services: A comparative study of two New Zealand regional councils. The Asia Pacific Journal of Public Administration, 26(2), 115-133.
Abstract
Studies of New Zealand public sector reforms since the mid-1980s have tended to focus on the application of New Public Management principles to the central government. Yet local government in New Zealand too has experienced drastic restructuring with a view to ensuring greater rationalisation, efficiency and effectiveness. This article examines contracting out in New Zealand local government, focusing on the delivery of plant pest management by Environment Waikato(the Waikato Regional Council) and the Wellington Regional Council. The study reveals distinct differences in approach by the two councils, determined in each case by pragmatic responses to situational context rather than mere adherence to NPM principles.
Date
2004
Type
Publisher
University of Hong Kong and Charles Darwin University
Rights
This article has been published in The Asia Pacific Journal of Public Administration. ©2004 Department of Politics and Public Administration, University of Hong Kong. Used with permission.
Collections