Beyond Terror: the truth about real threats to our world (Book Review)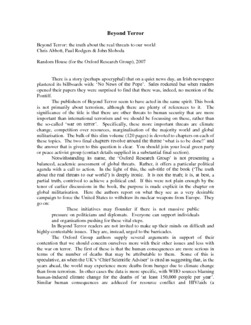 Citation
Smith, R. C. (2008). Beyond Terror: the truth about real threats to our world (Book Review). New Zealand International Review, 33(2), 28-29.
Abstract
The central thesis of the book reviewed here is that the threat of terrorism is not as great as prominent proponents of the 'war on terror' are apt to claim. By contrast, the 'real threats' (climate change, marginalisation of the world's poor, militarisation, etc.) are neglected. This thesis, and the rather naked advocacy of left-wing activism, is subjected to scrutiny, and reasons for governments to continue to accord the security of their citizens some priority are advanced.
Date
2008
Type
Publisher
New Zealand Institute of International Affairs
Rights
This is the accepted manuscript version of an article published in the journal: New Zealand International Review. Used with permission.
Collections