The problem of the essential icon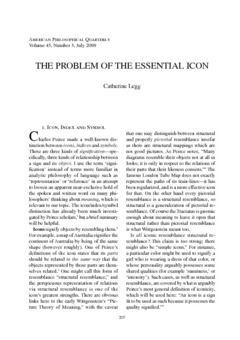 Citation
Legg, C. (2008). The problem of the essential icon. American Philosophical Quarterly, 45(3), 207-232.
Abstract
Charles Peirce famously divided all signs into icons, indices and symbols. The past few decades have seen mainstream analytic philosophy broaden its traditional focus on symbols to recognise the so-called essential indexical. Can the moral now be extended to icons? Is there an "essential icon"? And if so, what exactly would be essential about it? It is argued that there is and it consists in logical form. Danielle Macbeth's radical new "expressivist" interpretation of Frege's logic and Charles Peirce's existential graphs are mobilized in support of this claim.
Date
2008
Type
Publisher
North American Philosophical Publications
Rights
This article has been published in the journal: American Philosophical Quarterly. ©2008 American Philosophical Quarterly. Used with permission.
Collections