Women and honour: Notes on lying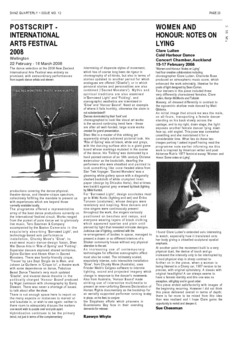 Citation
Cheesman, S. (2008). Women and honour: Notes on lying. DANZ Quarterly, 12, 23-23.
Abstract
Review: 'Women and Honour: Notes on Lying' had four creative collaborators including choreographer Clare Luiten. Charlotte Rose produced an atmospheric music score, which enhanced the work admirably, likewise for the pools of light designed by Sean Curran.
Date
2008
Type
Rights
This article has been published in the journal: DANZ Quarterly. Used with permission.