Historical and contemporary perspectives on the sediments of Lake Rotorua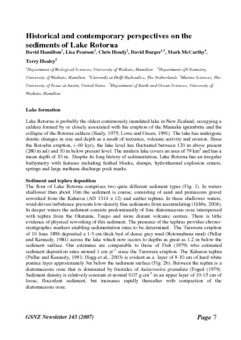 Citation
Hamilton, D., Pearson, L., Hendy, C., Burger, D., McCarthy, M., Healy, T. R. (2007). Historical and contemporary perspectives on the sediments of Lake Rotorua. Geological Society of New Zealand Newsletter, 143, 7-13.
Abstract
Lake Rotorua is probably the oldest continuously inundated lake in New Zealand, occupying a caldera formed by or closely associated with the eruption of the Mamaku ignimbrite and the collapse of the Rotorua caldera (Healy, 1975; Lowe and Green, 1991). The lake has undergone drastic changes in size and depth as a result of tectonics, volcanic activity and erosion. Since the Rotoehu eruption, (~60 kyr), the lake level has fluctuated between 120 m above present (280 m asl) and 10 m below present level. The modern lake covers an area of 79 km2 and has a mean depth of 10 m. Despite its long history of sedimentation, Lake Rotorua has an irregular bathymetry with features including faulted blocks, slumps, hydrothermal explosion craters, springs and large methane discharge pock marks.
Date
2007-07
Type
Publisher
Geological Society of New Zealand Inc.
Rights
This article has been published in the journal: Geological Society of New Zealand Newsletter. Used with permission.
Collections