Book review essay: Perspectives on environmental ethics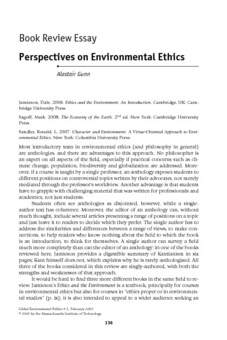 Citation
Gunn, A. (2009). Book review essay: Perspectives on environmental ethics. Global Environmental Politics, 9(1), 136-141.
Abstract
Most introductory texts in environmental ethics (and philosophy in general) are anthologies, and there are advantages to this approach. No philosopher is an expert on all aspects of the field, especially if practical concerns such as climate change, population, biodiversity and globalization are addressed. Moreover, if a course is taught by a single professor, an anthology exposes students to different positions on controversial topics written by their advocates, not merely mediated through the professor's worldview. Another advantage is that students have to grapple with challenging material that was written for professionals and academics, not just students.
Date
2009
Type
Publisher
Massachusetts Institute of Technology
Rights
This article has been published in the journal: Global Environmental Politics. Used with permission. © 2009 by the Massachusetts Institute of Technology.
Collections