Sustainable dance making: Dancers and choreographers in collaboration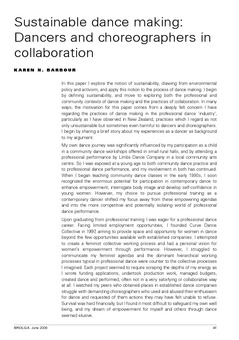 Citation
Barbour, K. (2008). Sustainable dance making: Dancers and choreographers in collaboration. BROLGA, 28, 41-51.
Abstract
In this paper I explore the notion of sustainability, drawing from environmental policy and activism, and apply this notion to the process of dance making. I begin by defining sustainability, and move to exploring both the professional and community contexts of dance making and the practices of collaboration. In many ways, the motivation for this paper comes from a deeply felt concern I have regarding the practices of dance making in the professional dance 'industry', particularly as I have observed in New Zealand; practices which I regard as not only unsustainable but sometimes even harmful to dancers and choreographers. I begin by sharing a brief story about my experiences as a dancer as background to my argument.
Date
2008
Type
Publisher
Australian Dance Council
Rights
This article has been published in the journal: BROLGA. Used with permission.