Roofing that generates electricity and heat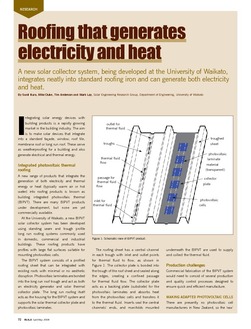 Citation
Bura, S., Duke, M., Anderson, T. & Lay, M. (2008). Roofing that generates electricity and heat. Build Magazine. v.April/May 2008, 72-73.
Abstract
Integrating solar energy devices with building products is a rapidly growing market in the building industry. The aim is to make solar devices that integrate into a standard facade, window, roof tile, membrane roof or long run roof. These serve as weatherproofing for a building and also generate electrical and thermal energy.
Date
2008
Type
Publisher
Building Research Association of New Zealand
Rights
This article has been published in the journal: Build Magazine. Used with permission.
Collections