Cooked turkey roasts have different processing characteristics then cooked beef roasts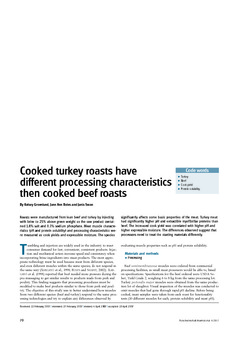 Citation
Gorenlund, K., Boles, J. A. & Swan, J. (2007). Cooked turkey roasts have different processing characteristics then cooked beef roasts. Fleischwirtschaft International, 22(4), 70-72.
Abstract
Roasts were manufactured from lean beef and turkey by injecting with brine to 25% above green weight so the raw product contained 1.8% salt and 0.3% sodium phosphate. Meat muscle characteristics (pH and protein solubility) and processing characteristics were measured as cook yields and expressible moisture. The species significantly affects some basic properties of the meat. Turkey meat had significantly higher pH and extractible myofibrillar proteins than beef. The increased cook yield was correlated with higher pH and higher expressible moisture. The differences observed suggest that processors need to treat the starting materials differently.
Date
2007
Type
Publisher
Deutscher Fachverlag
Rights
This article has been published in the journal: Fleischwirtschaft International. Used with permission.
Collections