Bis[μ-bis(diphenylphosphino)methane-К²P:P']bis[(saccharinato-КN)- palladium(I)] dichloromethane solvate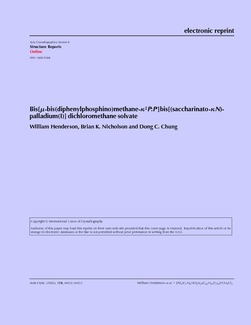 Citation
Henderson, W., Nicholson, B. K., & Chung, D. C. (2002). Bis[μ-bis(diphenylphosphino)methane-К²P:P']bis[(saccharinato-КN)- palladium(I)] dichloromethane solvate. Acta Crystallographica Section E, 58(8), 432-433.
Abstract
The dimeric palladium(I) saccharinate complex [Pd₂(sac)₂(dppm)₂], has been characterized as its di¬chloro¬methane solvate, i.e. [Pd₂(C₇H₄NO₃S)₂(C₂₅H₂₂P₂)₂]•CH₂Cl₂. The complex features a Pd—Pd bond bridged by two dppm ligands, with the saccharinate ligands N-bonded trans to the Pd—Pd bond.
Date
2002
Type
Publisher
BLACKWELL MUNKSGAARD
Rights
This is an authorised electronic reprint of an artilce published in the journal: Acta Crystallographica, Section E.
Collections