Exploring Fijian high school students' conceptions of averages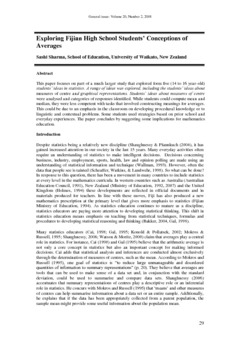 Citation
Sharma, S. (2008). Exploring Fijian high school students' conceptions of averages. Pacific-Asian Education, 20(2), 29-45.
Abstract
This paper focuses on part of a much larger study that explored form five (14 to 16 year-old) students' ideas in statistics. A range of ideas was explored, including the students' ideas about measures of centre and graphical representations. Students' ideas about measures of centre were analysed and categories of responses identified. While students could compute mean and median, they were less competent with tasks that involved constructing meanings for averages. This could be due to an emphasis in the classroom on developing procedural knowledge or to linguistic and contextual problems. Some students used strategies based on prior school and everyday experiences. The paper concludes by suggesting some implications for mathematics education.
Date
2008
Type
Publisher
Pacific Circle Consortium for Education
Rights
This article has been published in the journal: Pacific-Asian Education. Used with permission.