The "F" word: The challenge of feminism and the practice of counselling twenty years on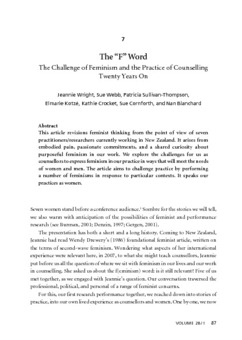 Citation
Wright, J., Webb, S., Sullivan-Thompson, P., Kotze, E., Crocket, K., …, Blanchard, N.(2008). The "F" word: The challenge of feminism and the practice of counselling twenty years on. New Zealand Journal of Counselling, 28(1), 87-103.
Abstract
This article revisions feminist thinking from the point of view of seven practitioners/researchers currently working in New Zealand. It arises from embodied pain, passionate commitments, and a shared curiosity about purposeful feminism in our work. We explore the challenges for us as counsellors to express feminism in our practice in ways that will meet the needs of women and men. The article aims to challenge practice by performing a number of feminisms in response to particular contexts. It speaks our practices as women.
Date
2008
Type
Publisher
New Zealand Association of Counsellors
Rights
This article has been published in New Zealand Journal of Counselling. © 2008 New Zealand Journal of Counselling. Used with permission.