Mangarara Formation: exhumed remnants of a middle Miocene, temperate carbonate, submarine channel-fan system on the eastern margin of Taranaki Basin, New Zealand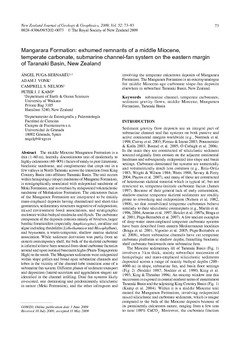 Citation
Puga-Bernabéu, Á., Vonk, A.J., Nelson, C.S. & Kamp, P.J.J. (2009). Mangarara Formation: exhumed remnants of a middle Miocene, temperate carbonate, submarine channel-fan system on the eastern margin of Taranaki Basin, New Zealand. New Zealand Journal of Geology & Geophysics, 52(2), 73-93.
Abstract
The middle Miocene Mangarara Formation is a thin (1–60 m), laterally discontinuous unit of moderately to highly calcareous (40–90%) facies of sandy to pure limestone, bioclastic sandstone, and conglomerate that crops out in a few valleys in North Taranaki across the transition from King Country Basin into offshore Taranaki Basin. The unit occurs within hemipelagic (slope) mudstone of Manganui Formation, is stratigraphically associated with redeposited sandstone of Moki Formation, and is overlain by redeposited volcaniclastic sandstone of Mohakatino Formation. The calcareous facies of the Mangarara Formation are interpreted to be mainly mass-emplaced deposits having channelised and sheet-like geometries, sedimentary structures supportive of redeposition, mixed environment fossil associations, and stratigraphic enclosure within bathyal mudrocks and flysch. The carbonate component of the deposits consists mainly of bivalves, larger benthic foraminifers (especially Amphistegina), coralline red algae including rhodoliths (Lithothamnion and Mesophyllum), and bryozoans, a warm-temperate, shallow marine skeletal association. While sediment derivation was partly from an eastern contemporary shelf, the bulk of the skeletal carbonate is inferred to have been sourced from shoal carbonate factories around and upon isolated basement highs (Patea-Tongaporutu High) to the south. The Mangarara sediments were redeposited within slope gullies and broad open submarine channels and lobes in the vicinity of the channel-lobe transition zone of a submarine fan system. Different phases of sediment transport and deposition (lateral-accretion and aggradation stages) are identified in the channel infilling. Dual fan systems likely co-existed, one dominating and predominantly siliciclastic in nature (Moki Formation), and the other infrequent and involving the temperate calcareous deposits of Mangarara Formation. The Mangarara Formation is an outcrop analogue for middle Miocene-age carbonate slope-fan deposits elsewhere in subsurface Taranaki Basin, New Zealand.
Date
2009
Type
Publisher
The Royal Society of New Zealand
Rights
© The Royal Society of New Zealand 2009. Used with permission.
Collections