What influences the emergence of a new subject in schools? The case of environmental education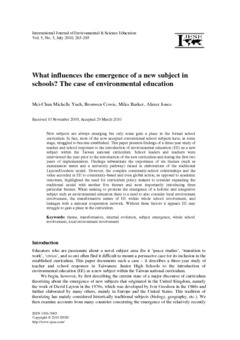 Citation
Yueh, M.-C., Cowie, B., Barker, M. & Jones, A. (2010). What influences the emergence of a new subject in schools? The case of environmental education. International Journal of Environmental & Science Education, 5(3), 265-285.
Abstract
New subjects are always emerging but only some gain a place in the formal school curriculum. In fact, most of the now accepted conventional school subjects have, at some stage, struggled to become established. This paper presents findings of a three-year study of teacher and school responses to the introduction of environmental education (EE) as a new subject within the Taiwan national curriculum. School leaders and teachers were interviewed the year prior to the introduction of the new curriculum and during the first two years of implementation. Findings substantiate the importance of six themes (such as examination status and a university pathway) raised in elaborations of the traditional Layton/Goodson model. However, the complex community-school relationships and the value accorded in EE to community-based and even global action, as opposed to academic outcomes, highlighted the need for curriculum policy makers to consider expanding the traditional model with another five themes and most importantly introducing three particular themes. When seeking to promote the emergence of a holistic and integrative subject such as environmental education there is a need to also consider local environment involvement, the transformative nature of EE within whole school involvement, and linkages with a national cooperation network. Without these factors it appears EE may struggle to gain a place in the curriculum.
Date
2010
Type
Publisher
International Journal of Environmental & Science Education (IJESE)
Rights
This article has been published in the journal: International Journal of Environmental & Science Education. © 2010 IJESE. Used with permission.