Role resources and work-family enrichment: The role of work engagement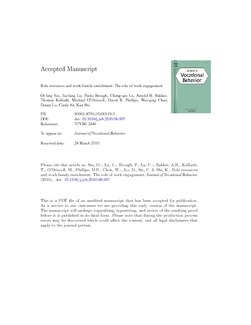 Citation
Siu, O., Lu, J., Brough, P., Lu, C., Bakker, A.B., Kalliath, T., …, Shi, K. (2010). Role resources and work-family enrichment: The role of work engagement. Journal of Vocational Behavior.
Abstract
The majority of work-family research has focused on negative spillover between demands and outcomes and between the work and family domains (e.g., work-family conflict; see review by Eby, Casper, Lockwood, Bordeaux, & Brinley, 2005). The theory that guided this research was in most cases role stress theory (Greenhaus & Beutell, 1985) or the role scarcity hypothesis (Edwards & Rothbard, 2000). However, according to spillover theory, work-related activities and satisfaction also affect non-work performance, and vice versa. Recently, in line with the positive psychology movement (Seligman & Csikszentmihalyi, 2000), work-family interaction research has also included concepts of positive spillover (Bakker & Schaufeli, 2008; Grzywacz & Marks, 2000). This emerging focus supplements the dominant conflict perspective by identifying new ways of cultivating human resource strength.
Date
2010
Type
Rights
This is an author's accepted version of an article published in the journal: Journal of Vocational Behavior. © 2010 Elsevier.
Collections