Investigating scientific literacy: Scientist's habits of mind as evidenced by their rationale of science and religious beliefs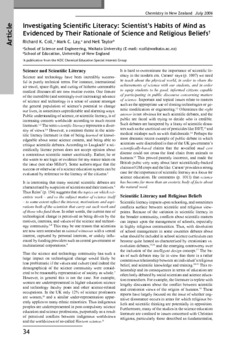 Citation
Coll, R.K., Lay, M.C. & Taylor, N. (2006). Investigating scientific literacy: Scientist's habits of mind as evidenced by their rationale of science and religious beliefs. Chemistry in New Zealand, 70(2), 34-41.
Abstract
Science and technology have been incredibly success¬ful in purely technical terms. For instance, international air travel, space flight, and curing of hitherto untreatable medical illnesses all are now routine events. One feature of the incredible (and seemingly ever increasing) advance of science and technology is a sense of unease amongst the general population of science's potential to change our lives, in sometimes unpredictable and alarming ways. Public understanding of science, or scientific literacy, is of increasing concern worldwide according to much recent literature.
Date
2006
Type
Publisher
New Zealand Institute of Chemistry
Rights
This article has been published in the journal: Chemistry in New Zealand. Used with permission.
Collections