Novel six-coordinate Aryl- and Alkyltin complexes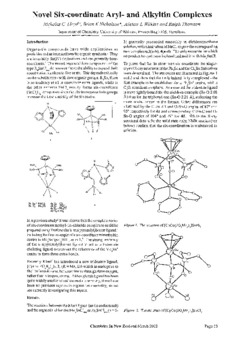 Citation
Lloyd, N.C., Nicholson, B.K., Wilkins, A.L. & Thomson, R. (2002). Novel six-coordinate Aryl- and Alkyltin complexes. Chemistry in New Zealand, 66(1), 53-54.
Abstract
Organo-tin compounds have wide applications as pesticides and as intermediates for organic synthesis.¹ They are invariably Sn(IV) derivatives and are generally four-coordinate.² The mixed organo/chioro compounds of the type RnSnCI4-n do however have the ability to expand their coordination numbers to five or six. This depends critically on the substituents - with four organic groups, R₄Sn, there is no tendency at all to coordinate extra ligands, while at the other extreme SnCl₄ readily forms six-coordinate [SnC1₄L₂] complexes since the electronegative halo groups increase the Lewis acidity of the tin centre.
Date
2002
Type
Publisher
New Zealand Institute of Chemistry
Rights
This article has been published in the journal: Chemistry in New Zealand. Used with permission.
Collections