Nitrogen and phosphorus limitation of phytoplankton growth in New Zealand lakes: Implications for eutrophication control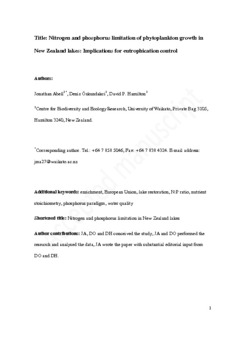 Citation
Abell, J.M., Ozkundakci, D. & Hamilton, D.P. (2010). Nitrogen and phosphorus limitation of phytoplankton growth in New Zealand lakes: Implications for eutrophication control. Ecosystems, 13(7), 966-977.
Abstract
We examine macronutrient limitation in New Zealand (NZ) lakes where, contrary to the phosphorus (P) only control paradigm, nitrogen (N) control is widely adopted to alleviate eutrophication. A review of published results of nutrient enrichment experiments showed that N more frequently limited lake productivity than P; however, stoichiometric analysis of a sample of 121 NZ lakes indicates that the majority (52.9%) of lakes have a mean ratio of total nitrogen (TN) to total phosphorus (TP) (by mass) indicative of potential P-limitation (>15:1), whereas only 14.0% of lakes have mean TN:TP indicative of potential N-limitation (<7:1). Comparison of TN, TP, and chlorophyll a data between 121 NZ lakes and 689 lakes in 15 European Union (EU) countries suggests that at the national scale, N has a greater role in determining lake productivity in NZ than in the EU. TN:TP is significantly lower in NZ lakes across all trophic states, a difference that is driven primarily by significantly lower in-lake TN concentrations at low trophic states and significantly higher TP concentrations at higher trophic states. The form of the TN:TP relationship differs between NZ and the EU countries, suggesting that lake nutrient sources and/or loss mechanisms differ between the two regions. Dual control of N and P should be the status quo for lacustrine eutrophication control in New Zealand and more effort is needed to reduce P inputs.
Date
2010
Type
Rights
This is an author's accepted version of an article published in the journal: Ecosystems. The original publication is available at www.springerlink.com.
Collections