Power and energy visualization for the micro-management of household electricity consumption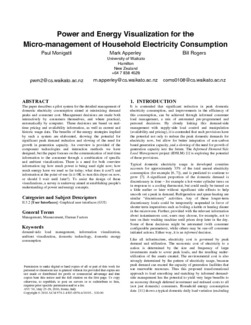 Citation
Monigatti, P., Apperley, M. & Rogers, B. (2010). Power and energy visualization for the micro-management of household electricity consumption. In G. Santucci (Eds.), Proceedings of the International Conference on Advanced Visual Interfaces, Roma, Italy, May 26-28, 2010 (pp. 325-328). New York, NY, USA: ACM.
Abstract
The paper describes a pilot system for the detailed management of domestic electricity consumption aimed at minimizing demand peaks and consumer cost. Management decisions are made both interactively by consumers themselves, and where practical, automatically by computer. These decisions are based on realtime pricing and availability information, as well as current and historic usage data. The benefits of the energy strategies implied by such a system are elaborated, showing the potential for significant peak demand reduction and slowing of the need for growth in generation capacity. An overview is provided of the component technologies and interaction methods we have designed, but the paper focuses on the communication of real-time information to the consumer through a combination of specific and ambient visualizations. There is a need for both overview information (eg how much power is being used right now; how much energy have we used so far today; what does it cost?) and information at the point-of-use (is it OK to turn this dryer on now, or should I wait until later?). To assist the design of these visualizations, a survey is underway aimed at establishing people's understanding of power and energy concepts.
Date
2010
Rights
© ACM, 2010. This is the author's version of the work. It is posted here by permission of ACM for your personal use. Not for redistribution. The definitive version was published in Proceedings of the International Conference on Advanced Visual Interfaces, May 26-28, 2010, http://doi.acm.org/10.1145/1842993.1843052.
Collections