Nature of scientific inquiry in Year 11 science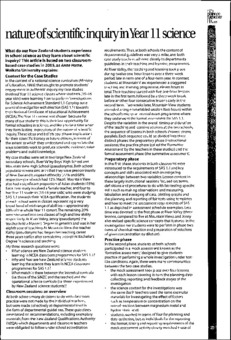 Citation
Hume, A. (2008). Nature of scientific inquiry in Year 11 science. New Zealand Science Teacher, 119, 33-36.
Abstract
The article presents two classroom-based case studies in 2005 that examined the experience of students in school science in New Zealand. It states that students in both classrooms were introduced to the requirements of Science Achievement Standard (SAS) 1.1. in the preparatory phase. Meanwhile, students participated in a mock assessment known as the formative assessment in the second phase.
Date
2008
Type
Rights
This article has been published in the journal: New Zealand Science Teacher. © 2008 New Zealand Science Teacher. Used with permission.