Group-delay measurement of frequency-converting devices using a comb generator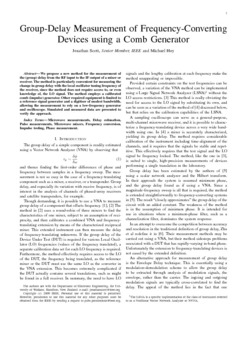 Citation
Scott, J.B. & Hoy, M. (2010). Group-delay measurement of frequency-converting devices using a comb generator. IEEE Instrumentation and Measurement Society, 11, 3012-3017.
Abstract
We propose a new method for the measurement of (group) delay from the radio-frequency (RF) input to the intermediate-frequency (IF) output of a mixer or a receiver. The method is particularly convenient for measuring the change in group delay with the local-oscillator (LO) tuning frequency of the receiver since the method does not require access to, or even knowledge of, the LO signal. The method employs a calibrated comb (impulse) generator. Other required equipment is limited to a reference signal generator and a digitizer of modest bandwidth, allowing the measurement to rely on a low-frequency generator and an oscilloscope. Simulated and measured data are presented to verify the approach.
Date
2010
Type
Publisher
IEEE Instrumentation and Measurement Society
Rights
© 2010 IEEE. Personal use of this material is permitted. However, permission to reprint/republish this material for advertising or promotional purposes or for creating new collective works for resale or redistribution to servers or lists, or to reuse any copyrighted component of this work in other works must be obtained from the IEEE.
Collections