(R)evolutionary aesthetics: Denis Dutton's The art instinct: beauty, pleasure and human evolution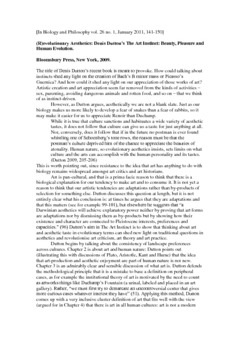 Citation
Kingsbury, J. (2009). (R)evolutionary aesthetics: Denis Dutton's The art instinct: beauty, pleasure and human evolution. Biology, Social Science and Law, 26(1), 141-150.
Abstract
Denis Dutton's ''The Art Instinct'' succeeds admirably in showing that it is possible to think about art from a biological point of view, and this is a significant achievement, given that resistance to the idea that cultural phenomena have biological underpinnings remains widespread in many academic disciplines. However, his account of the origins of our artistic impulses and the far-reaching conclusions he draws from that account are not persuasive. This article points out a number of problems: in particular, problems with Dutton's appeal to sexual selection, with his discussion of the adaptation/by-product distinction and its significance, and with drawing normative conclusions from evolutionary hypotheses.
Date
2009
Type
Rights
This is an author's accepted version of an article published in the journal: Biology, Social Science and Law. © 2009 Springer. The final publication is available at www.springerlink.com.
Collections