Extreme glacial legacies: A synthesis of the antarctic springtail phylogeographic record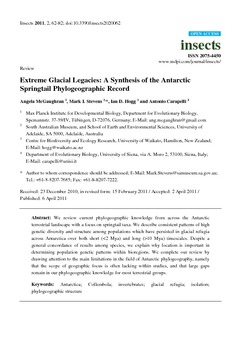 Citation
McGaughran, A., Stevens, M.I., Hogg, I.D. & Carapelli, A. (2011). Extreme glacial legacies: A synthesis of the antarctic springtail phylogeographic record. Insects, 2(2), 62-82.
Abstract
We review current phylogeographic knowledge from across the Antarctic terrestrial landscape with a focus on springtail taxa. We describe consistent patterns of high genetic diversity and structure among populations which have persisted in glacial refugia across Antarctica over both short (10 Mya) timescales. Despite a general concordance of results among species, we explain why location is important in determining population genetic patterns within bioregions. We complete our review by drawing attention to the main limitations in the field of Antarctic phylogeography, namely that the scope of geographic focus is often lacking within studies, and that large gaps remain in our phylogeographic knowledge for most terrestrial groups.
Date
2011
Type
Rights
This article has been published in the journal: Insects.