Promoting engagement and learning in first year university studies: The role of personalisation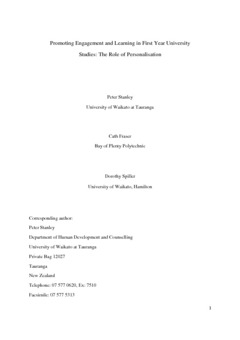 Citation
Stanley, P., Fraser, C. & Spiller, D. (2011). Promoting engagement and learning in first year university studies: The role of personalisation. Southern Institute of Technology Journal of Applied Research, 2011, 1-13.
Abstract
Student engagement in higher education can be conceptualised as involving three components: students' social needs and circumstances, the cognitive characteristics of academic studies, and the prevailing institutional ethos or philosophy that specifies the relationships that students have with learning and knowledge. This paper reports on an investigation into student engagement in a first-year human development course at the University of Waikato at Tauranga, New Zealand where the teaching staff has a commitment to relating learning to individual experiences. Information from an end-of-course survey indicates that a philosophy of personalisation promotes learning engagement. Students reported that they were required to think a lot or a great deal, that they put time into the course assessments, and that they valued the human development course itself.
Date
2011
Type
Publisher
Southern Institute of Technology
Rights
This article has been published in the journal: Southern Institute of Technology Journal of Applied Research. Used with permission.