Race-ing and engendering the nation-state in Aotearoa/New Zealand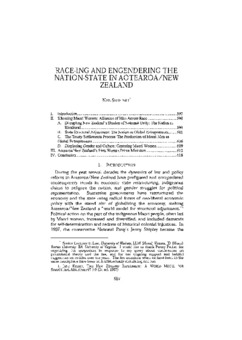 Citation
Seuffert, N. (2002). Race-ing and engendering the nation-state in Aotearoa / New Zealand. American University Journal of Gender, Social Policy & the Law 10(3), 597-618.
Abstract
During the past several decades the dynamics of law and policy reform in Aotearoa/New Zealand have prefigured and encapsulated contemporary trends in economic state restructuring, indigenous claims to refigure the nation, and gender struggles for political representation. Successive governments have restructured the economy and the state using radical forms of neo-liberal economic policy with the stated aim of globalizing the economy. Political action on the part of the indigenous Maori people, often led by Maori women, increased and diversified, and included demands for self-determination and redress of historical colonial injustices. In 1997, the conservative National Party's Jenny Shipley become the country's first white female Prime Minister, followed in 1999 by the election of a center-left coalition headed by Labour Party leader Helen Clark. This article analyzes the race and gender dynamics of these contemporary trends. First, it argues that policies of state structural adjustment and Maori political claims have converged in commodified settlements of past colonial injustices as corporate deals. These deals are temporary alliances of men across race to silence and erase the demands for self-determination or political power sharing of Maori activists, who are usually Maori women. Second, this article contends that the political instability created by rapid structural adjustment and the change to a Mixed Member Proportional ("MMP") electoral system converges with white backlash against these settlements to open space for New Zealand's first two female Prime Ministers. This article also suggests that the election of a second white female Prime Minister in New Zealand may reflect the (temporary) regendering of the role of Prime Minister to the feminine.
Date
2002-02-01
Type
Publisher
American University - Washington College of Law
Rights
The final, definitive version of this article has been published in the American University Journal of Gender, Social Policy & the Law, (c) 2002 American University Journal of Gender, Social Policy & the Law. Used with permission.