An-other look at assessment: Assessment in learning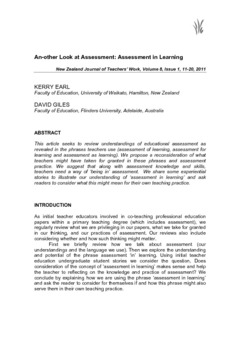 Citation
Earl, K. & Giles, D. (2011). An-other look at assessment: Assessment in learning. New Zealand Journal of Teachers' Work, 8(1), 11-20.
Abstract
This article seeks to review understandings of educational assessment as revealed in the phrases teachers use (assessment of learning, assessment for learning and assessment as learning). We propose a reconsideration of what teachers might have taken for granted in these phrases and assessment practice. We suggest that along with assessment knowledge and skills, teachers need a way of 'being in' assessment. We share some experiential stories to illustrate our understanding of 'assessment in learning' and ask readers to consider what this might mean for their own teaching practice.
Date
2011
Type
Publisher
Massey University
Rights
This article has been published in the journal: New Zealand Journal of Teachers' Work. Used with permission.