Wild record of an apple snail in the Waikato River, Hamilton, New Zealand and their incidence in freshwater aquaria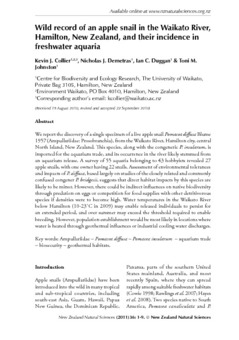 Citation
Collier, K.J., Demetras, N.J., Duggan, I.C. & Johnston, T.M. (2011). Wild record of an apple snail in the Waikato River, Hamilton, New Zealand and their incidence in freshwater aquaria. New Zealand Natural Sciences, 36, 1-9.
Abstract
We report the discovery of a single specimen of a live apple snail Pomacea diffusa Blume 1957 (Ampullariidae: Prosobranchia), from the Waikato River, Hamilton city, central North Island, New Zealand. This species, along with the congeneric P. insularum, is imported for the aquarium trade, and its occurrence in the river likely stemmed from an aquarium release. A survey of 55 aquaria belonging to 43 hobbyists revealed 27 apple snails, with one owner having 22 snails. Assessment of environmental tolerances and impacts of P. diffusa, based largely on studies of the closely related and commonly confused congener P. bridgesii, suggests that direct habitat impacts by this species are likely to be minor. However, there could be indirect influences on native biodiversity through predation on eggs or competition for food supplies with other detritivorous species if densities were to become high. Water temperatures in the Waikato River below Hamilton (10-23˚C in 2009) may enable released individuals to persist for an extended period, and over summer may exceed the threshold required to enable breeding. However, population establishment would be most likely in locations where water is heated through geothermal influences or industrial cooling water discharges.
Date
2011
Type
Publisher
New Zealand Natural Sciences
Rights
This article has been published in the journal: New Zealand Natural Sciences. Used with permission.
Collections