Māori outcome evaluation: A kaupapa Māori, outcomes and indictors, framework and methodology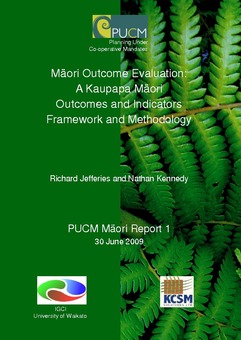 Citation
Jefferies, R., & Kennedy, N. (2009). Māori outcome evaluation: A kaupapa Māori, outcomes and indictors, framework and methodology. PUCM Māori Report 1. Hamilton, New Zealand: IGCI, The University of Waikato.
Abstract
Territorial local authorities (i.e. regional and district councils) are by law required to provide for Māori values and interests, and to undertake plan evaluation and environmental monitoring, to ensure that the provisions they have in place for these purposes are effective. Councils have not, however, had methods available that would enable them to meet these statutory obligations. This gap is filled by the framework and methods that we have developed and trialled over the past 5 years. The development and use of our Kaupapa Māori Environmental Outcomes and Indicators Framework and Methodology is the focus of this report.
Date
2009-06-30
Type
Series
Publisher
IGCI, The University of Waikato
Rights
© Use of information from this report should acknowledge the authors: R. Jefferies and N. Kennedy.