Searching for demography's missing link: Momentum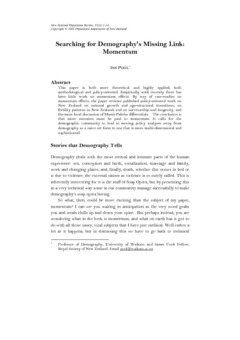 Citation
Pool, I. (2004). E G Jacoby: Searching for demography's missing link: Momentum. New Zealand Population Review, 31(2), 1-14.
Abstract
This paper is both more theoretical and highly applied; both methodological and policy-oriented. Empirically until recently there has been little work on momentum effects. By way of case-studies on momentum effects, the paper reviews published policy-oriented work on New Zealand on national growth and age-structural transitions; on fertility patterns in New Zealand; and on survivorship and longevity, and the more local discussion of Maori-Pakeha differentials. The conclusion is that more attention must be paid to momentum. It calls for the demographic community to lead in moving policy analyses away from demography as a naive art form to one that is more multi-dimensional and sophisticated.
Date
2005
Type
Publisher
Population Association of New Zealand
Rights
Copyright © 2005 Population Association of New Zealand. Used with permission.
Collections