Frozen rights?: The right to develop Maori treaty and aboriginal rights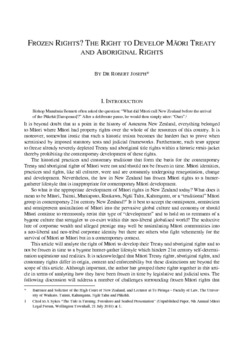 Citation
Joseph, R. (2011). Frozen rights?: The right to develop Maori treaty and aboriginal rights. Waikato Law Review, 19(2), 117-133.
Abstract
Bishop Manuhuia Bennett often asked the question: "What did Maori call New Zealand before the arrival of the Pakeha [Europeans]?" After a deliberate pause, he would then simply utter: "Ours".
Date
2011
Type
Publisher
The University of Waikato
Rights
This article has been published in the journal: Waikato Law Review. Used with permission.