Uncovering meanings: The discourses of New Zealand secondary teachers in context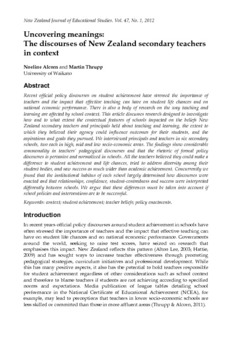 Citation
Alcorn, N. & Thrupp, M. (2012). Uncovering meanings: The discourses of New Zealand secondary teachers in context. New Zealand Journal of Educational Studies, 47(1), 107-121.
Abstract
Recent official policy discourses on student achievement have stressed the importance of teachers and the impact that effective teaching can have on student life chances and on national economic performance. There is also a body of research on the way teaching and learning are affected by school context. This article discusses research designed to investigate how and to what extent the contextual features of schools impacted on the beliefs New Zealand secondary teachers and principals held about teaching and learning, the extent to which they believed their agency could influence outcomes for their students, and the aspirations and goals they pursued. We interviewed principals and teachers in six secondary schools, two each in high, mid and low socio-economic areas. The findings show considerable commonality in teachers' pedagogical discourses and that the rhetoric of formal policy discourses is pervasive and normalized in schools. All the teachers believed they could make a difference to student achievement and life chances, tried to address diversity among their student bodies, and saw success as much wider than academic achievement. Concurrently we found that the institutional habitus of each school largely determined how discourses were enacted and that relationships, confidence, student-centredness and success were interpreted differently between schools. We argue that these differences must be taken into account if school policies and interventions are to be successful.
Date
2012
Type
Publisher
New Zealand Council for Educational Research
Rights
Archived with the permission of the Editors, New Zealand Journal of Educational Studies.