ʺThree Strikesʺ sentencing: Another blow for Māori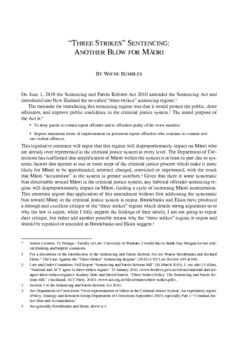 Citation
Rumbles, W. (2011). ʺThree Strikesʺ sentencing: Another blow for Māori. Waikato Law Review. 19(2), 108-116.
Abstract
On June 1, 2010 the Sentencing and Parole Reform Act 2010 amended the Sentencing Act and introduced into New Zealand the so-called "three strikes" sentencing regime. The rationale for introducing this sentencing regime was that it would protect the public, deter offenders, and improve public confidence in the criminal justice system. The stated purpose of the Act is: • To deny parole to certain repeat offender and to offenders guilty of the worst murders. • Impose maximum terms of imprisonment on persistent repeat offenders who continue to commit serious violent offences. This legislative comment will argue that this regime will disproportionately impact on Māori who are already over represented in the criminal justice system at every level. The Department of Corrections has reaffirmed that amplification of Māori within the system is at least in part due to systemic factors that operate at one or more steps of the criminal justice process which make it more likely for Māori to be apprehended, arrested, charged, convicted or imprisoned, with the result that Māori "accumulate" in the system in greater numbers. Given that there is some systematic bias discernable around Māori in the criminal justice system, any habitual offender-sentencing regime will disproportionately impact on Māori, feeding a cycle of increasing Māori incarceration.
Date
2011
Type
Publisher
University of Waikato
Rights
This article has been published in the journal: Waikato Law Review. Used with permission.