Student Companion: Intellectual Property (June 2012)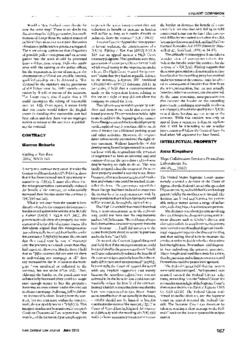 Citation
Kingsbury, A. (2012). Student Companion: Intellectual Property (June 2012). New Zealand Law Journal, June, 167-168.
Abstract
This article discusses the patent and copyright infringement cases (respectively) : "Mayo Collaborative Services v Prometheus Laboratories Inc" [566 US __2012], and "Roadshow Films Pty Ltd v iiNet Ltd" [2012 HCA 16].
Date
2012-06
Type
Publisher
LexisNexis New Zealand Ltd
Rights
This article has been published in the journal: New Zealand Law Journal. © 2012 LexisNexis New Zealand Limited.