A short history of Te Mātāhauariki Research Institute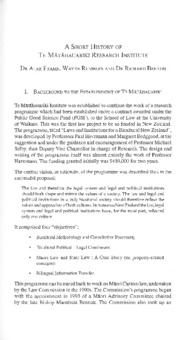 Citation
Frame, A., Rumbles, W., & Benton, R. (2010-2011). A short history of Te Mātāhauariki Research Institute. Yearbook of New Zealand Jurisprudence, 13&14, 1-19.
Abstract
Te Mātāhauariki Institute was established to continue the work of a research programme which had been established under a contract awarded under the Public Good Science Fund (PGSF), to the School of Law at the University of Waikato. This was the first law project to be so funded in New Zealand. The programme, titled "Laws and Institutions for a Bicultural New Zealand", was developed by Professors Paul Havemann and Margaret Bedggood, at the suggestion and under the guidance and encouragement of Professor Michael Selby, then Deputy Vice Chancellor in charge of Research. The design and writing of the programme itself was almost entirely the work of Professor Havemann. The funding granted initially was $450,000 for two years.
Date
2010-2011
Type
Publisher
University of Waikato School of Law
Rights
This paper has been published in the Yearbook of New Zealand Jurisprudence. Used with permission.