Science, values and people: The three factors that will define that next generation of international conservation agreements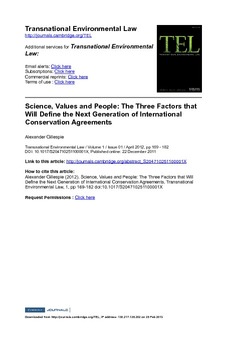 Citation
Gillespie, A. (2012). Science, values and people: The three factors that will define that next generation of international conservation agreements. Transnational Environmental Law, 1, 169-­182.
Abstract
This brief paper is concerned with three emerging issues that will, individually and collectively, define the way in which international conservation law moves forward in the coming decades. This paper is not focused upon the large-scale policy gaps in this area, such as those relating to conservation on the high seas, compliance deficits or emerging environmental threats such as nutrient pollution. Rather, it seeks to draw out three issues which run through all conservation agreements. The three issues are those related to the use of science to frame regimes; the use of philosophy to examine the values of what is trying to be achieved; and the use of politics to ensure that local communities are linked to conservation efforts. Consideration of each of these three areas is relatively recent, with none of them being at the forefront of conservation considerations of international importance in the past. In the future, this is likely to change.
Date
2012
Type
Publisher
Cambridge University Press
Rights
© Cambridge University Press. Published in journal Transnational Environmental Law. Used with permission.