Melt-extruded polyethylene oxide (PEO) rods as drug delivery vehicles: Formulation, performance as controlled release devices and the influence of co-extruded excipients on drug release profiles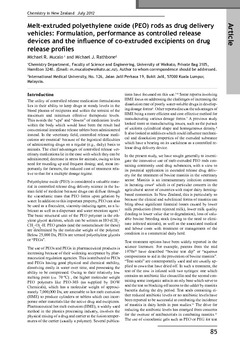 Citation
Mucalo, M.R. & Rathbone, M.J. (2012). Melt-extruded polyethylene oxide (PEO) rods as drug delivery vehicles: Formulation, performance as controlled release devices and the influence of co-extruded excipients on drug release profiles. Chemistry in New Zealand, 76(3), 85-95.
Abstract
The utility of controlled release medication formulations lies in their ability to keep drugs at steady levels in the blood plasma of recipients and within the termini of the maximum and minimum effective therapeutic levels. This avoids the "ups" and "downs" of medication levels within the body which would have been the result had conventional immediate release tablets been administered instead. In the veterinary field, controlled release medications are essential¹ because of the logistical difficulties of administering drugs on a regular (e.g., daily) basis to animals. The chief advantages of controlled release veterinary medications lie in the ease with which they can be administered; decrease in stress for animals, owing to less need for rounding up and frequent dosing; and, most importantly for farmers, the reduced cost of treatment relative to that for a multiple dosage regime.
Date
2012
Type
Publisher
New Zealand Institute of Chemistry
Rights
This article is published in Chemistry in New Zealand. © 2012 New Zealand Institute of Chemistry.
Collections