From a Chinese kindergarten: A personal journey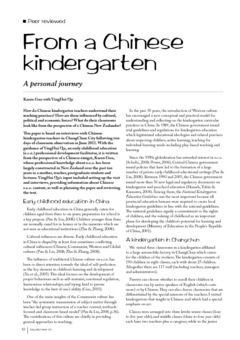 Citation
Guo, K. & Qu, Y. (2012). From a Chinese kindergarten: A personal journey. Early Education, 51, 12-16.
Abstract
How do Chinese kindergarten teachers understand their teaching practices? How are these influenced by cultural, political and economic forces? What do their classrooms look like from the perspective of a Chinese New Zealander?
Date
2012
Type
Publisher
Early Education Services, Auckland University of Technology
Rights
This article has been published in the journal: Early Education. Used with permission.