Scaling anisotropy of the power in parallel and perpendicular components of the solar wind magnetic field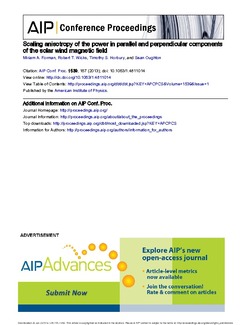 Citation
Forman, M. A., Wicks, R. T., Horbury, T. S., & Oughton, S. (2013). Scaling anisotropy of the power in parallel and perpendicular components of the solar wind magnetic field. AIP Conference Proceedings, 1539, 167-170.
Abstract
Power spectra of the components of the magnetic field parallel (Pzz) and perpendicular (Pzz+Pyy) to the local mean magnetic field direction were determined by wavelet methods from Ulysses' MAG instrument data during eighteen 10-day segments of its first North Polar pass at high latitude at solar minimum in 1995. The power depends on frequency f and the angle θ between the solar wind direction and the local mean field, and with distance from the Sun. This data includes the solar wind whose total power (Pxx + Pyy + Pzz) in magnetic fluctuations we previously reported depends on f and the angle θ nearly as predicted by the GS95 critical balance model of strong incompressible MHD turbulence. Results at much wider range of frequencies during six evenly-spaced 10-day periods are presented here to illustrate the variability and evolution with distance from the Sun. Here we investigate the aniso tropic scaling of Pzz(f,θ) in particular because it is a reduced form of the Poloidal (pseudo-Alfvenic) component of the (incompressible) fluctuations. We also report the much larger Pxx(f,θ)+Pyy(f,θ) which is (mostly) reduced from the Toroidal (Alfvenic, i.e., perpendicular to both B and k) fluctuations, and comprises most of the total power. These different components of the total power evolve and scale differently in the inertial range. We compare these elements of the magnetic power spectral tensor with "critical balance" model predictions.
Date
2013
Publisher
American Institute of Physics
Rights
Copyright © 2012 American Institute of Physics.
Collections