Managing complexity in a distributed digital library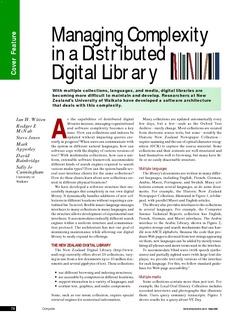 Citation
Witten, I. H., McNab, R. J., Jones, S., Apperley, M., Bainbridge, D. & Cunningham, S. J. (1999). Managing complexity in a distributed digital library. IEEE Computer, 32(2), 74-79.
Abstract
As the capabilities of distributed digital libraries increase, managing organizational and software complexity becomes a key issue. How can collections and indexes be updated without impacting queries currently in progress? How can the system handle several user-interface clients for the same collections? Computer science professors and lectors from the University of Waikato have developed a software structure that successfully manages this complexity in the New Zealand Digital Library. This digital library has been a success in managing organizational and software complexity. The researchers' primary goal has been to minimize the effort required to keep the system operational and yet continue to expand its offerings.
Date
1999-02-01
Type
Publisher
IEEE COMPUTER SOC
Rights
This article is available online at the webpages of IEEE Computer.
Collections